WELCOME TO SHAANTAM –
A LUXURY SPA RESORT IN THE HIMALAYAS.
Reconnect and uncover the real meaning of pampering, indulgence and rejuvenation with our relaxing Spa treatments. Inspired by the ancient ethics of Ayurveda and the modern day beauty needs, the Shaantam Spa in Rishikesh offers you matchless pampering and allows you to rejuvenate, unwind and renew yourself.
Our rejuvenating spa resort is Rishikesh is located close to nature away from hustle and bustle of the town. Come and enjoy our luxury spa treatments using exotic oils, natural herbs and ancient Ayurvedic knowledge. A few days spent at our spa resort will have a calming effect on you and restore and relax your body from several maladies related to stress and tension. Our special body treatments and Spa massages help in maintaining a healthy radiance, tone muscles, strengthen the system, relax and de-stress the body. This luxury Spa Resort offers you various soothing therapies and personalised programmes under the expert guidance of skilled therapists. Enjoy and experience rejuvenating sensations, resorted energies and total wellness with a variety of holistic spa therapies.
Situated in the calming environs of Himalayas, Shaantam strives to achieve the perfect harmony of mind, body and spirit. With focus on the traditional Indian sciences of Ayurveda, Yoga and Meditation, Shaantam creates a skilful balance between the ancient Indian therapies and modern spa technology. You can enjoy various personalized programmes to de-stress, detoxify and feel rejuvenated.
Spa Menu
Abhyangam- A full body massage where your body is wrapped in finest quantity cold- pressed sesame oil followed by smooth, gentle movements to rub the oil deeply into the body. This Massage is nourishing, pacifies and doshas, relieves fatigue, provides stamina and perfect sleep, enhances the complexion and the luster of the skin, promotes longevity and nourishes all parts of the body.
Udwarthanam- A medicated herbal powder is massaged all over the body in a specific way. This ancient therapy is considered very good in reducing over weight and controlling cholesterol of the body. It also Strengthens Muscles and tightens loose skin.
Bandal Massage- Herbal poultices (bundles) are prepared with various herbs and medicated leaves. The poultices are warmed in medicated oil and used to massage the entire body. The massage promotes better circulation, thereby promoting increased perspiration, which helps the skin to eliminate wastes. It also help to tone the skin and enhances relaxation.
Stone Massage- This hot stone therapy is a full body massage where in thousand-year-old volcanic stone massage your body penetrating the remedial heat and medicated oil deep into your muscles and joints. This wonderful therapy is used for relieving aches and pain, improve circulation and take one into the harmonious state of mind, body and soul.
Uzichil- Indulge in an endless journey of kerala tradition. Kalari Massage works with Nadisuthra points, to balance Sapthadathu (the seven tissues of the body; plasma, blood, muscle, fat bone, marrow and semen) and the Chakra system, increasing and cultivating prana (Life Energy).
Basil sea Salt- This rich marine salt contains all the essential minerals from the dead sea and it is further enriched with organic essential basil oil. The therapy begins with rubbing the salt onto the skin and exfoliating with specific techniques. This is extremely beneficial for those who aim to lose weight.
Kativasti- A treatment ideal for lower back problems warm medicated oil is kept over the lower back with herbal paste boundary, this promotes a feeling of relaxation and tranquility.
Head Neck Shoulder- Ideal for head, neck and shoulder tension. This treatment includes a neck shoulder and head massage followed by relaxing scalp Massage.
Swedish Massage- Helps to increase blood and lymphatic flow and promotes a sense of well-being. This treatment is ideal for relaxation and can help muscle tone and improve skin texture.
Aromatherapy- Aromatherapy is the practice of using the natural oils extracted from flowers, bark, stems, leaves, roots or other parts of plant to enhance psychological and physical well-being. The inhaled aroma from these "essential" Oil is widely believed to stimulate brain function. Essential oils can also be absorbed through the skin. Where they travel through the bloodstream and can promote whole – body healing.
Skin Care Treatment- Spl. Full body ayurvedic treatment (Scrubbing, Creaming and milk washing).
Four Hand Massage- (Synchronize Treatment) This special four hand massage in which strokes are given according to the circulatory by channels treatment helps weight lose and tones the skin and increase vitality.
Nasyam- Being one of the panchkarma procedures, nasyam is treatment in which herbal oils are applied through the nose. It is highly effective treatment for congestion of the sinus and headache.
Reflexology- A natural healing art, based on the principal that there are reflexes in the feet and hands which correspond to every part of the body.
Head Therapy- Relaxation of Head by Using Natural Oil Massage.
Foot Massage- Foot massage is a simple, cheap and effective method to relax your body and mind. It is based on the tenets of foot reflexology and involves applying pressure on key pints in the foot to get benefits.
Back Massage- Massage involves working and acting on the body with pressure-structured, unstructured, stationary, or moving – tension, motion, or vibration, done manually or with mechanical aids. Massage can be applied with the hand, elbows, knees, forearm, or massage device. Massage can promote relaxation and well-being.
Facial- A facial is a procedure involving a variety of skin treatments, including: steam, exfoliation, extraction, creams, lotions, facial masks, peels, and massage.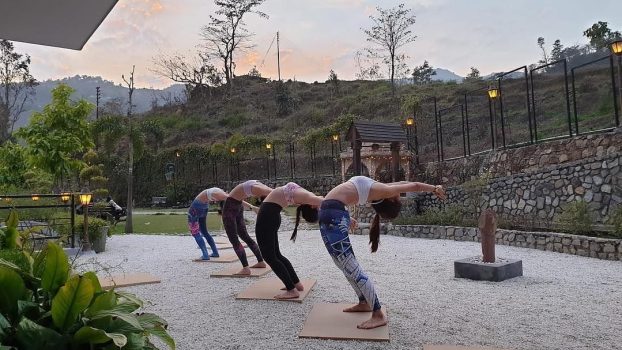 YOGA
Surrounded by the mesmeric beauty of meditative mountains, brilliant skies and mystic atmosphere Shaantam, a serene Yoga retreat in Rishikesh, India offers you the opportunity for physical, spiritu
MEDITATION
Imagine real harmony. Take a break from the hectic daily schedule and indulge in inner peace. Everyone needs some time and space to get away from all the frenzied activity of day to day life to rec